I can't imagine a holiday celebration without a glass of eggnog, sprinkled with the spicy, sweet flavor of nutmeg. As chief spice buyer for McCormick, what fascinates me most about this simple holiday pleasure is where nutmeg comes from – both geographically and botanically. And, that takes me to Eastern Indonesia, where the vast majority of the world's nutmeg is cultivated. The fruit of a tall, tropical tree, Myristica fragrens, is the source of not just one, but two aromatic spices – nutmeg and mace. Nutmeg is actually the seed from the fruit of the tree, which can grow to a height of 50 feet and live up to 75 years. Although the tree bears some fruit year round, the main harvests are concentrated around March/April and October/November.

The annual world production of nutmeg is approximately 13 million pounds, relatively small when compared to the other holiday favorite – cinnamon. Indonesia grows about 75% of the world's nutmeg, while Grenada is another major producer. Unfortunately, extensive tree damage from Hurricane Ivan in 2004 dramatically reduced the amount of nutmegs Grenada has been able to cultivate in recent years. Native to the famous Molucca Islands, located in Eastern Indonesia, the first nutmeg trees grew on the eastern islands of Ternate and Ambon. Today, the majority of nutmeg trees are farmed in a series of small islands just north of Sulawesi, with one of the major islands being Siau. All the islands still border the Molucca Sea, and are located within 5 degrees north and south of the equator. Many have beautiful terrain, with lush green volcanic mountain ranges. Nutmegs grow best in elevations of 1,000 to 2,000 feet, and thrive very well in the nutrient rich volcanic soil. The island of Siau has a large volcano which has been very active recently, making a visit there interesting to say the least! The only way to get to this island is by an all night ferry, in a pretty rough sea setting. Imagine arriving on this island exhausted, somewhat sea sick, only to be greeted by a very active volcano. Now this makes spice buying an adventure! As I approach one of the many groves on Siau, I see tree branches full of yellow fruit, similar in size to nectarines. The outer portion of the fruit – the largest part – is fleshy and has the consistency of an unripe nectarine. It actually tastes like nutmeg! This part of the fruit is often used for making preserves and syrup. When the fruit fully ripens on the tree, it naturally splits open, then falls to the ground where it is collected by the farmers. Breaking open the fruit reveals a lacy, scarlet red membrane that envelops a dark brown, brittle shell. The membrane is called the aril, which turns a dull red-orange when sun-dried by the harvesters. The dried aril is mace, which has a similar taste and aroma to nutmeg, but is slightly more delicate. After the mace is removed, what remains is the hard outer shell covering the nutmeg.

The nutmeg is extremely aromatic and has one of the highest amounts of volatile oil of all the spices. After sun-drying to develop its distinctive flavor, the outer shell is removed. Nutmegs are then sorted by size and visual appearance. The largest and most intact nutmegs are sold whole, and can be found in your local grocery store ready to be freshly grated. If you have a recipe that calls for mace, in a pinch, you can use nutmeg instead. Nutmeg is one of the most popular holiday spices, and a part of nearly every cuisine. I enjoy nutmeg as a delicious flavor accent in vegetables, cookies, beverages and desserts.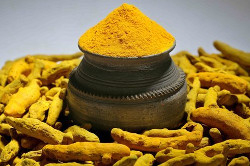 If you've ever wondered what gives prepared mustard or curry dishes their vibrant color, look no further for an answer. The secret ingredient is turmeric. Although we encounter turmeric in a variety of condiments, seasoning blends and recipes everyday, many people are not sure what it is, what it tastes like, or how to use it. The continued surge in popularity of Asian, Caribbean, Indian and Moroccan cuisine is a major reason why turmeric has moved to the center of the plate. In fact, in the United States, turmeric imports have increased steadily during recent years, with more than 5 million pounds imported in 2002. It's time to take a closer look at this culinary treasure.

Throughout history, turmeric was widely known for its use as a natural colorant in cosmetics and textiles. Today, it is frequently used to impart a golden color to rice dishes, sauces, soups, stews, homemade canning and pickling recipes, relishes, and condiments. In fact, it is sometimes referred to as 'Indian saffron.' But turmeric has much more to offer than just a pretty color, and as Americans' tastes continue to explore the cuisines of the Far and Middle East, we are beginning to take note of turmeric's flavor as well. Turmeric has a mild aroma and a warm, earthy flavor with hints of ginger and pepper. It adds complexity to a variety of dishes, and is best combined with other flavors, rather than on its own.

Primarily sourced from India, turmeric is the root of the plant, Curcuma longa, a member of the ginger family. It consists of a central bulb with numerous short 'fingers.' The outer color of turmeric is brownish yellow and the flesh is a bright yellow to yellow-orange. The roots are ready to harvest approximately eight months after planting. Once harvested, the roots are cleaned, dried and ground.